The HygroVino humidifier is a real complement for cellars that are naturally too dry or equipped with an air conditioner without a built-in humidifier.
This small device with its modern design works independently of any other system to ensure maximum protection of the wine cellar thanks to the expertise of Friax Industrie.
Relative humidity adjustment range (%)
Plug&Play
Easy, quick and intuitive installation
Sustainable design
Friax has chosen recyclable materials and energy-efficient components
Anti-microbial
The filter is treated to prevent the formation of microbes
Compatible
HygroVino is compatible with all wine cellars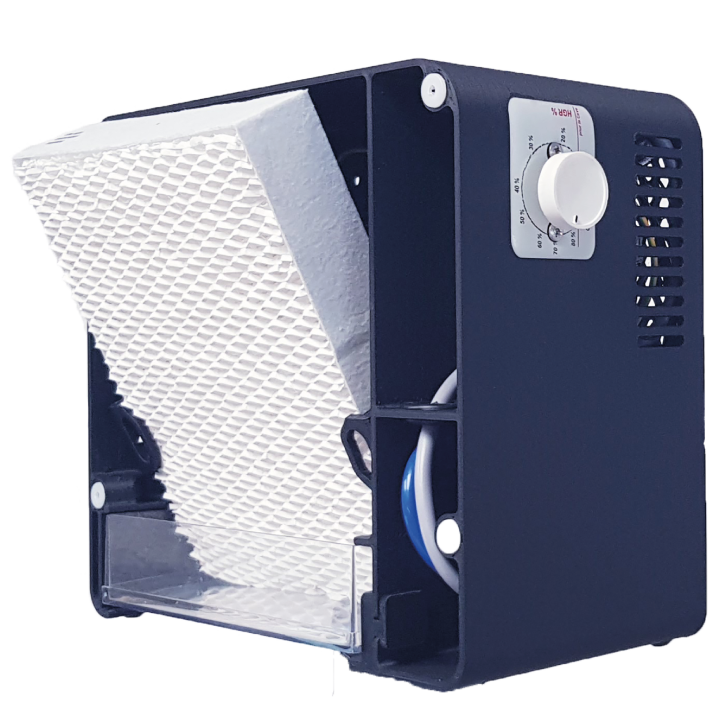 Humidified and filtered air
Thanks to its anti-microbial filter, the HygroVino humidifier delicately humidifies wine cellars with clean air.
Simple and durable design
The humidifier connects to the house water network and is ready to operate. Attached to the wall or placed on a shelf, it always maintains the required humidity. No drain connection is necessary.
HygroVino is based on an eco-responsible design with fully recyclable materials that do not fear corrosion. The humidification principle used is energy efficient, it does not add heat to the cellar like electric resistance systems.
Unlike ultrasound technology, its operation is safe for the cellar. Water does not need to be treated before use.
The black color of its modern design can be personalized on request.
The HygroVino humidifier works in all wine cellars. It is the ideal complement for upgrading a cellar equipped with a Friax Genesis air conditioner model (= without integrated humidification).
For cigar it can be used as a humidor.
Accessory: The KLPWSECU connection kit, available as an accessory, simplifies installation and limits the water pressure on the device to its optimum value.
HygroVino is a real complement for cellars that are naturally too dry or cellars equipped with an air conditioner without an integrated humidifier.
-Anti-microbial filter
-Compatible with models of Friax Genesis cellar air conditioners and those of other brands
-Can be used as a humidor for cigars
– Replaceable antimicrobial filter (every 4 to 6 months for optimal protection)
-Range of adjustment from 50 to 80%  of relative humidity
-Low power consumption (35 W max)
Find all the technical documentation in your Pro Access
CHOOSE FRIAX
We can recommend a stockist who can advise you on your specific requirements